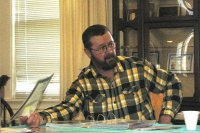 Glen Haga
April Meeting
April 17, 2018
Following a light supper, Mr. Glen Haga from Haga's Farm in Sophia presented the program on Bees. He has been doing beekeeping for 30 years and sells his honey locally. Everyone there was quite interested and asked a lot of questions. We ended with a business meeting and made plans to sell fruit sticks at Sweet Treats on May 12th.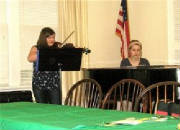 Students Perform
March Meeting
March 20, 2018
The ladies of the Woman's Club met at the clubhouse for a potluck supper on this first day of Spring. Since March is Youth in the Arts month, we had a small group of talented students from an area school sing and play instruments. They were amazing! On display were winning arts & crafts items that our members had submitted for judging at the State Convention. A business meeting followed the program.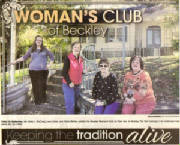 Newspaper Article
Newspaper Article
We hope you saw the wonderful feature newspaper article in the October 18th edition of the Register-Herald about our Beckley Woman's Club. Beautifully done! We can be very proud.


"Tuesdays at the Clubhouse"

Our Beckley Woman's Club will hold all monthly meetings on the 3rd Tuesday of each month at 5:30 pm in the clubhouse, unless otherwise noted. This includes refreshments or a light supper followed by a program before the meeting.
Schedule of Meetings & Events

2018

March 20: Covered dish dinner, business meeting, musical program with some talented students from Bradley Elementary

April 17:

Note: Ladies, please sign up to be on a committee. It's important that all of us participate!
The Raleigh County Animal Shelter
The Animal Shelter needs donations to keep operating. The following is a list of suggested items:
money for medical care
food
litter
cloth/paper towels
sheets and blankets
trash bags
newspaper
toys and treats
| | |
| --- | --- |
| Three of our club members, Ellen Taylor, Elizabeth Wilson, and Kathryne Williams, were on the planning committee for this program. | From The Register-Herald |
Volunteers Needed
...to help transport members to meetings.
...to help membership chairman contact prospective members.
...to help with various activities during the year