.
Photo copied from Beckley USA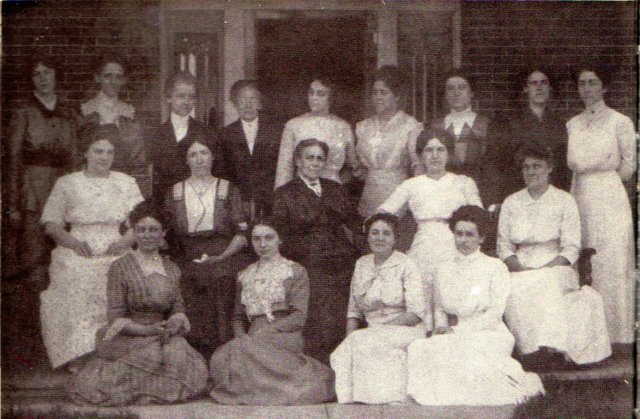 The First Women's Club of Beckley - Organized September 1909
This photograph was taken at the residence of Mrs. W. W. Hume
(later the home of Mrs. B. B. Richmond) at 312 N. Kanawha Street.
Front row from left: Mrs. Mabel Taylor, Mrs. H. E. Phipps, Miss Ethel McDairmid (first President), Mrs. E. M. Merrill.
Middle row: Mrs. T. K. Laing, Mrs. E. L. Ellison, Mrs. Welling (Mrs. Merrill's mother, a visitor), Mrs. James Laing, Mrs. George W. Warren.
Back row: Miss Katherine Lightner, Mrs. C. L. Beckner, Mrs. E. W. McDairmid, Mrs. T. E. Bibb, Mrs. George H. Moss, Mrs. W. W. Hume, Mrs. J. Lewis Bumgardner, Miss Winifred Brown, Miss Elizabeth Anderson.
The charter members, in addition to the ones named above, were: Miss Anna Anderson, Miss Sue Caldwell, Miss Roberta Caldwell, Mrs. John B. Earwood, Mrs George W. Harris, Mrs. John H. Hatcher, Miss Bessie Lanier, Miss Addie Lanier, Mrs. J. Franklin Mahoney, Mrs. Clifford McCoy, Miss Mollie McCreery, Mrs. William H. McGinnis, Mrs. Annie McGavock, Mrs. Burwell Ware, Mrs. J. E. Summerfield, Mrs. Robert Taylor, and Mrs. William MacTaggart.